You are here
Available Services
Day Training (DT)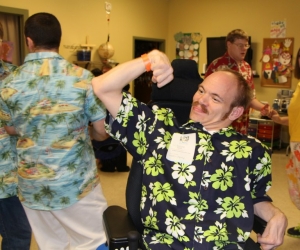 This service supports recipients, allowing them to participate in daily meaningful activities in a group setting by incorporating community involvement, activities of daily living, self-advocacy, vocational skills, and social skills.  Our goals are to lead to the acquisition of abilities that will help the participants become more independent in their daily lives, expand their knowledge and understanding of the world around them, and build natural supports through educating the community.
LLM continues to improve and enhance our state-of-the-art DT facility, The Revival Center.  The DT Program is designed to integrate education with active participation in activities to promote the highest level of independence.  Common activities that are accomplished at The Revival Center include:  Health and Wellness, Spiritual Development, Computer Training, Money Management, Art Therapy, Music Therapy, Pet Therapy, Sensory Development, Literacy Training, Current Events, Around the World Program, Cooking Classes, and Socialization.
Holding Grace
Giving the Gift that is priceless; there is free salvation through Jesus Christ. Holding Grace offers the vision of uniting believers to serve One God through the atmosphere of free worship and expression in glorifying our Father in Heaven.
We bring Jesus to the "unchurched" through His grace and everlasting love. Promoting Spiritual independence through exercising our faith, Holding Grace was established for anyone and everyone who desires to Worship Jesus, learn from the Holy Bible, while living an unashamed worship lifestyle through servant hood. We all have the desire to live for a greater purpose than ourselves. Living for Jesus is not about living a perfect life, but living in His perfect grace and strength. Holding Grace offers a non-judgmental atmosphere for all to come and experience Jesus in an authentic and life transforming way. Each day at the Revival Center, we begin with a daily devotion and prayer time, dedicating our "first" to God. Monthly we have several services which are held by various local/community ministry groups, Pastors, Worship Pastors, Musicians…. Anyone/group who desires to share the Love of Jesus. We participate in many activities from serving at Hope Centers, donating our time to outreach opportunities, community communion ceremonies, and Celebration Baptism's. We desire our participants and anyone else who is willing to experience more of God, to have a love encounter, life-changing experience.
Click here for additional information.
Community Supports (CS)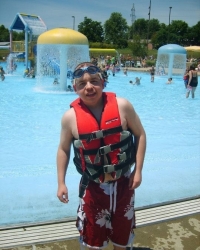 This service supports recipients by providing one on one training and assistance for participants who reside in their own family residence. This support is individualized to meet the participant's goals and needs in the home and community settings. It can include, but is not limited to: household care, personal care, self advocacy, socialization, financial responsibility, volunteering, and natural support development.
CS continues to be LLM's leader in supports. The CS department has continued to experience exceptional growth due to word of mouth marketing and outside referrals from satisfied participants and families.
Residential Supports
This support is available for the recipient by providing assistance and training in the participant's home setting to increase their level of independent functioning. These homes are located in the community and incorporate 2-3 roommates who reside together. Training activities include adaptive skill development, daily living assistance, community inclusion, social and leisure development, and an opportunity to build natural supports in the community to increase their overall quality of life.
Respite
This service supports the recipients by providing a time of rest or relief for those persons normally caring for a participant.  This service is only available to a participant living in a family home residence and is not available for those living in a group home or staffed residence.
LLM provides several different options for participants and families to utilize respite supports.  First, we do allow participants to use the open rooms in the residential homes when needed.  This time not only allows a break for families but also provides extra socialization for participants residing in the residential homes.  The second option is to arrange for LLM staff to stay at the participant's home for an extended period of time while the family or caregiver is away.  The last option we use for respite is our DT Center on Saturdays.  Where the center is primarily used for goal-oriented education during the week, it is also used as a respite center on Saturdays.  This again allows a break for families and also promotes socialization for our participants.  Saturday respite at the center is a program that no other provider currently offers and we are looking to growing this program.
Supported Employment
This service supports the recipients by providing intensive, ongoing support to maintain paid employment in an environment in which a participant without a disability is employed.  Services include job coaching for the participant, job placement, negotiation of jobs to meet the needs of employers and applicants, side-by-side training in the workplace, and continued support and guidance throughout the job.
This program, based upon approval, may also include self-supported employment.
Physical Therapy
This service supports recipient to help restore function, improve mobility, relieve pain and prevent or limit permanent physical disabilities through the guidance of a certified Physical Therapist.
Occupational Therapy
This service supports the recipients with the therapeutic use of self-care, work and play activities to enhance development and achieve as high a level of independence and quality of life as possible. This may include adaptation of tasks or environment to achieve maximum independence and to enhance quality of life. A licensed Occupational Therapist, or an Occupational Therapy Assistant supervised by a licensed Occupational Therapist, may provide this support.
Speech Therapy
This service supports the recipients through the work of a certified Speech Therapist.  Speech Therapy focuses on receptive language, or the ability to understand words spoken to you, and expressive language, or the ability to use words to express yourself. It also deals with the mechanics of producing words, such as articulation, pitch, fluency, and volume.
Other Supports
LLM offers resources available within the community and provides referrals to other provider agencies based upon the participant's needs.  Some of the available options include: Behavior Support, Group Homes, Psychological Services, and Medical Professional options including specialized medical equipment and supplies.  A list of providers in our demographic is available to all consumers/families upon request.